Kevin Hamilton - Managing Partner
Josh Walker - CPGA Class A Head Professional
Golf runs in Josh's family and his passion for the game was sparked at a young age. Josh enjoys all aspects of the game from playing to teaching, equipment fitting and learning all the ins and outs of the golf industry.
Originating from Regina, Saskatchewan, Josh first came to Lethbridge in 1999 to attend the Professional Golf Management (PGM) Program at the Lethbridge College. After graduating from the PGM Program in 2001, he was ready to turn his passion into a lifelong career.
Prior to coming to Evergreen Golf Centre, he spent 4 seasons working at the Kananaskis Country Golf Course. Wanting to learn more about semi-private and private golf club dynamics, he moved back to Lethbridge in the fall of 2002 and has lived here since. In 2003 Josh joined the team at the Magrath Golf Club through to the end of 2015. Along the way, he gained tremendous knowledge and experience in managing his own business and applied that knowledge and experience into his next venture as the Owner/Operator of J. Walker Golf. In 2016, he opened J. Walker Golf as a stand-alone independent golf shop, specializing in custom fit equipment and the latest in Men's and Ladies' golf apparel and accessories. With a focus on customer service, in two short years, the team at J. Walker Golf has fit over 150 customers into custom fit equipment best suited for their individual games.
He is extremely excited to be part of the fabulous team at Evergreen Golf Centre as the Head Professional. He is looking forward to meeting and getting to know all the great customers of Evergreen Golf Centre and to helping you get the most out of your game.
Marcus Meneghetti- Assistant Golf Professional, CPGA Apprentice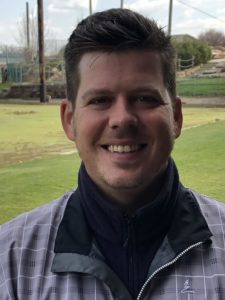 Marcus recently graduated from the University of Lethbridge with a business degree majoring in General Management, and is on the path to becoming a CPGA Class 'A' professional. Marcus spent 6 years teaching power skating, hockey skills programs and private skating lessons at Westside Recreation Centre in his hometown of Calgary, Alberta before coming to Lethbridge in 2012 to attend the University. In 2013 he became a member at Magrath Golf Club where he practiced and refined his golf game for two seasons, later making the University Golf team where he played until 2016 and is now currently the Assistant Coach. In 2017, Marcus worked for Josh Walker at 'J Walker Golf' where he was introduced to the career path of a Golf Professional. After joining Evergreen Golf Centre in April of 2018, Marcus went on to achieve his candidate status and upon finishing his business degree, became Evergreens newest Assistant Professional. Marcus sites his inspiration to the games colorful and creative characters like Lee Trevino, Bubba Watson and Gary Player who were never afraid to impart their personality onto their surroundings and their playing style. Marcus continues to study and refine his knowledge of the golf swing and his passion for the game reflects his philosophy of a natural and simplistic approach to instruction.
Evan Webber- CPGA Class A, Head Teaching Professional
Now in his 3rd year at the Evergreen Golf Centre Evan has helped to develop the instructional programs offered for both adults and juniors.  Recently adding in programs for seniors, including a fitness program tied in with the YMCA, and the all new Kick-In program for juniors Evan continues to help Evergreen stand out in the community as the place to learn the game.
Evan's past experience includes a 9 year stint at Crown Isle Golf Resort and Community in Courtenay, British Columbia where he started as an assistant and later became the Head Teaching Professional after attaining Class A status with the PGA of Canada.  He also has had professional roles in Cranbrook, at the Cranbrook Golf Club and in Windermere at the Windermere Valley Golf Course.  He chose to transition to the Evergreen Golf Centre because of the company's desire to be a leader in technology.   Evan is a Level 2 certified Trackman Professional.
In 2019, Evan was recognized as a Top 100 Golf Professional in British Columbia for the pursuit of personal growth in the provinces Professional Development Program. Evan has a strong desire to learn and grow as a golf professional in order to better help his students.
Whether you are a brand new player or a high school student looking for a college scholarship, Evan can help improve your golf.   Sessions with Evan often include analysis of equipment, swing data using Trackman 4 technology, video analysis, and mental skills.